Old World Sicily & Malta
November 6-20, 2023
View the recorded webinar to learn more about our 2023 Collette trips!
Explore Sicily and Malta – two island paradises nestled amongst the deep blue waves of the Mediterranean. Discover how ancient traditions blend into modern society as you travel along timeless Italian and Maltese towns.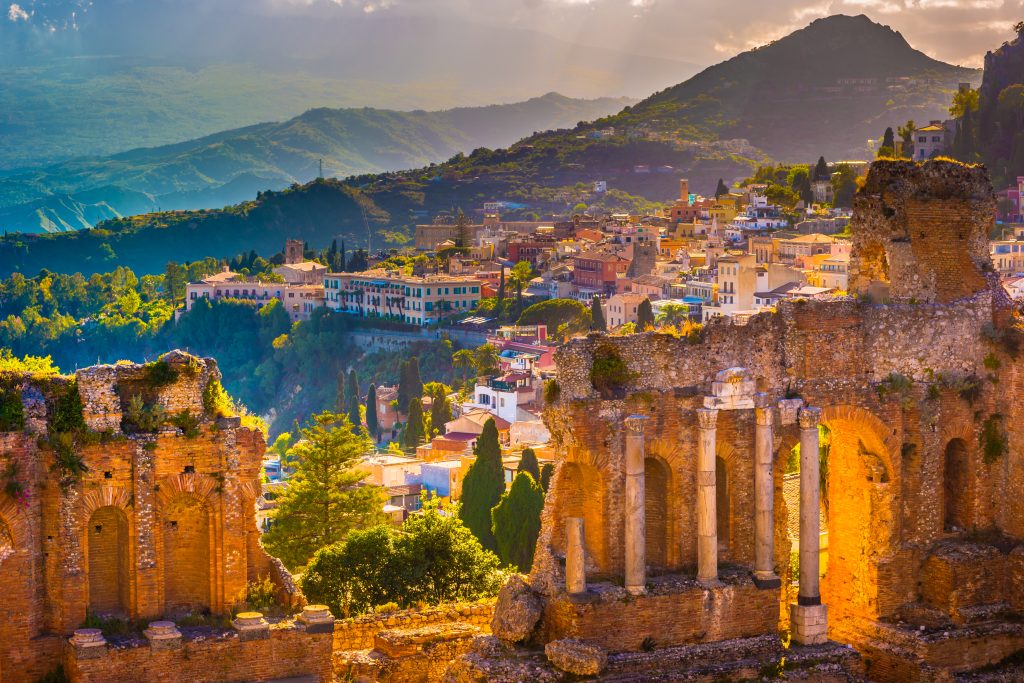 Highlights include: Palermo, Monreale, Choices on Tour, Impact Moment, Trapani, Isle of Mozia, Marsala Winery Tour, Olive Oil Farm, Agrigento, Valley of the Temples, Taormina, Mount Etna Off-Road Excursion, Ragusa, Malta, Three Cities, Valletta
Small Group Tour: Travel with just 12-24 guests on this tour. A smaller group setting means a more personal travel experience.
Day 1: Overnight flight to Sicily

Day 2: Hotel Porta Felice – Palermo
Start your journey in Palermo, Sicily's welcoming capital city, and get to know your fellow travelers over a welcome dinner.
Day 3: Hotel Porta Felice – Palermo
Taste your way through Palermo's lively markets on a walking tour unveiling the city's historical center and introducing you to traditional Sicilian street food. Head to Monreale Cathedral to see its majestic Byzantine mosaics. Then, explore the cathedral's cloisters, taking in their serene atmosphere of the monastic complex -OR- ascend the southern tower to the panoramic terraces for a bird's-eye view over Palermo.
Day 4: I Mulini Resort – Trapani
Experience an impact moment with Addiopizzo, an anti-Mafia nonprofit that supports locals who refuse to pay the Mafia's protection fees. Visit Capaci and Cinisi, the site of two terrorist acts led by the Mafia and pay tribute to fallen activists. Settle into Trapani for two nights and watch the sunset fade against the crashing waves and whirling windmills.
Day 5: I Mulini Resort – Trapani
Venture to the isle of Mozia, sailing next to a submerged Roman road. Explore Mozia with a guide, visiting the ruins of its ancient port, and a museum featuring impressive Greek statuary. Then continue to Marsala, heading down into a cellar for a sampling of its renowned wines paired with a tasting of locally produced foods. The remainder of the day is yours, or join an optional tour to Erice to visit Maria Grammatico's famous bakery for a pastry-making class.
Day 6: Baia di Ulisse – Agrigento
Take in the rugged landscape of the Belice Valley scarred by the 1968 earthquake. Head to an olive grove and learn about the Slow Food movement, which supports local cultures and preserves traditions. Enjoy lunch before departing for Agrigento, where ancient roots and medieval buildings blend into modernity. Wander through the Valley of the Temples (UNESCO) with a guide.
Day 7: NH Collection Taormina – Taormina
Venture deep into Sicily's countryside to Piazza Armerina, home of the ancient Villa Romana del Casale (UNESCO), and explore the site with an expert insider. Journey along the Ionian Coast to Taormina, a seaside hub of ancient Greek theaters and hilly walkways. Settle into your new home for the next three nights before enjoying Sicilian food at dinner, surrounded by local musicians.
Day 8: NH Collection Taormina – Taormina
Discover Taormina with a local guide, leading you to the city's Duomo, public gardens, and the well-preserved Greek theater. Spend the afternoon on your own – grab a bite to eat at a sidewalk café and peruse the local boutiques.
Day 9: NH Collection Taormina – Taormina
See Sicily's wilder side on an off-road adventure to Mount Etna. Spend the day exploring this legendary giant, passing by lava formations and basalt rocks.
Day 10: Poggio del Sole Hotel – Ragusa
Make your way to Ragusa (UNESCO), an ancient city perched upon a hill. Meander through its Baroque neighborhood with an expert guide, then make the most of a free afternoon to explore on your own. As the sun sets, retreat to your countryside resort just outside the city.
Day 11: Poggio del Sole Hotel – Ragusa
The entire day is yours. Relax in the countryside and enjoy the resort's amenities. Or join an optional tour to the picture-perfect towns of Scicli and Modica, where you'll enjoy a savory brunch at a ricotta farm before continuing to an Aztec chocolate shop for some sweet samples.
Day 12: Land's End Boutique Hotel – Sliema
Hop on a ferry and venture to the island paradise of Malta. Start your exploration in Three Cities, a conglomeration of three fortified cities of medieval heritage. Connect with the heart of the neighborhood at a Band Club, where locals gather to learn music and marching for the local festivals. Your day ends in St. Julian's, your home for the next three nights.
Day 13: Land's End Boutique Hotel – Sliema
Your adventure continues in Valletta, the capital of Malta, on a guided walking tour. Then visit the private home of a modern-day Knight of Malta -OR- tour the masterpieces of Valletta's Cathedral featuring Mattia Preti and Caravaggio.
Day 14: Land's End Boutique Hotel – Sliema
Experience Malta however you please. Soak up the sunshine, relax on the beach, and explore the colorful harbor, or join an optional excursion to a temple complex older than Stonehenge, followed by an intimate look at Mdina – the "Silent City." Enjoy a farewell dinner with your fellow travelers as you recount memories of the Mediterranean islands.
Day 15: Return home – Say goodbye to Malta and the Mediterranean as your tour comes to a close.
Price and What's Included
Only $5,549 per person/double occupancy ($6,349 single). A $600 deposit per person is due upon reservation. Space is limited!
Included in price: Round trip air from Minneapolis/St Paul Intl (MSP), air taxes and fees/surcharges, ferry to Malta, all lodging, hotel transfers, tour manager and local guides, all experiences/excursions unless noted, 24 meals.
Not included in the price: Cancellation waiver and insurance of $399 per person, some meals, most gratuity. All rates are per person and are subject to change based on air inclusive package from MSP. Air travel may be arranged from other airports as well.
The final payment is due by September 7, 2023. Deposits are refundable up until April 7, 2023.