Family Values
When J'Vaun Walker, a men's basketball student-athlete was making his decision on where to continue his educational and basketball careers, he wanted someplace with an inviting, family-like environment. In the end, UW-Superior provided Walker everything he was looking for.
From Japan, to England, to Germany, Idaho, Virginia and Texas, Walker has not only lived all over the world – he's also made a positive impact wherever he has been. Add Superior, Wisconsin to that list, too. Both on and off the court, the well-traveled Walker has made an indelible mark on the latest locale he has called home.
The son of two military parents, Walker has lived in more places and experienced more in his young life than most people do in a lifetime. He has adapted to numerous cultures, created friendships with people of varied backgrounds, and excelled in nearly everything he's tried, and yet the first thing you notice when you meet him is humility and respectfulness.
"J'Vaun's academic and athletic accomplishments are well documented," said Greg Polkowski, head men's basketball coach at UWS. "But one of his greatest strengths that may go overlooked is his humility. It has allowed him to get off to a great start here and I believe will provide him great direction moving forward."
Success on the Court
UWS is obviously not the first to recognize Walker's character. The point guard from Manvel High School, just outside of Houston, Texas, was named Mr. Team his senior year of high school for putting his team before himself. He was also named an All-District player two years, Newcomer of the Year his first year on the varsity team, and Mr. Defense his senior year.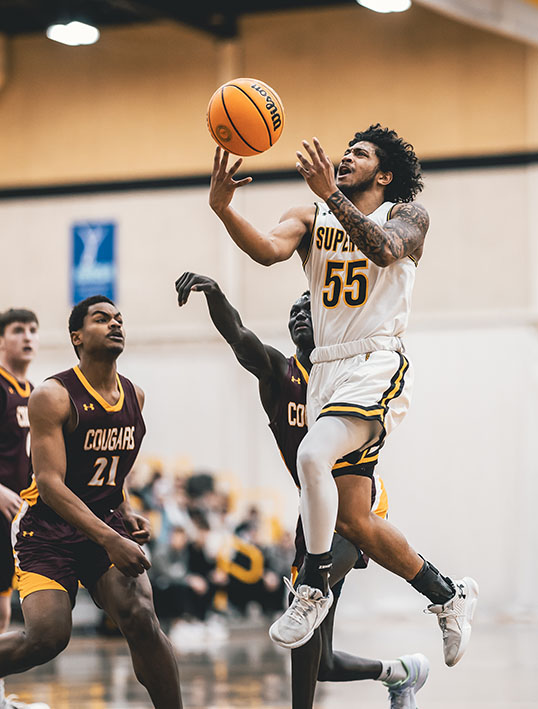 "J'Vaun is a very capable player who could have played at a number of places," said Polkowski. "When I learned about him from one of my colleagues, I knew he was someone who would make our basketball team and the entire university better. We are thrilled that he is part of the Yellowjacket family."
At UW-Superior, Walker had a career year in 2022-23, starting all 27 games for the Yellowjackets and reaching career highs in points (353), rebounds (114), assists (76) and steals (58). For his efforts, Walker was named All-Upper Midwest Athletic Conference First Team for the first time and chosen as a member of the UMAC's All-Defensive Team for the second time.
He will enter his senior season in 2023-24 283 points shy of 1,000 for his career.
Family Bond at UWS
A biology major with a focus on pre-medicine and health, Walker is a recipient of the Swenson Family Scholarship, showing he is also a standout in the classroom. He has also blended seamlessly into the campus and greater Superior communities, giving Walker that family feeling he was looking for prior to arriving on campus.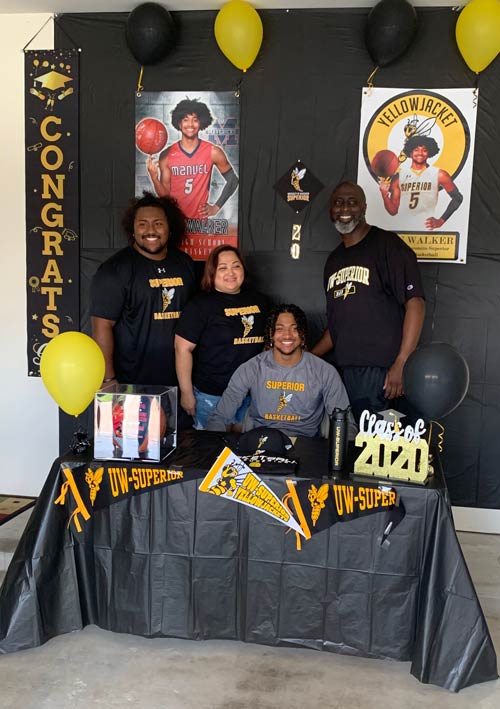 And the feeling has been reciprocated. From the support and encouragement of his own family to the Yellowjacket family he found in the coaches and players at UWS, Walker said he knew it was the place he wanted to be.
"It was weird because I couldn't come to visit due to COVID-19 and coach couldn't come visit me in Texas, but after many phone conversations with Coach Polkowski, and interactions with players and even some alumni, I felt a family bond at UWS and I wanted to be part of that. I had been considering going to a much larger university, like LSU, and trying to walk on, but I instantly felt comfortable around the other players here. They accepted and welcomed me and I just knew this was the right place."
It's hard enough to pack up bags and travel thousands of miles to a place you've never been in a normal year, but 2020 posed some unique challenges.
"Actually, it didn't affect my decision too much," he said. "It would be nice to have all my classes face-to-face, but safety comes first, so that can wait.  Even though we don't know exactly what the basketball season will hold, I'm just focusing on building relationships and being prepared so that when we get the chance to charge onto the court, we'll be the best we can be," said Walker. "We will be a family."