Career Outcomes Following Graduation
UW-Superior documents the outcomes of its graduates. Where our grads go following graduation is a true reflection of their educational experience and our mission of fostering intellectural growth and career preparation.
Find out how a UW-Superior education sets graduates up to Be Superior no matter what career path they choose.
A POWERFUL NETWORK OF ALUMNI
UW-Superior alumni are enrolled in nearly 41 different graduate and professional schools to continue their education.
Yellowjackets can be found around the world in all 50 states and more than 40 countries.
15,336 UW-Superior Alumni are connected to the UW-Superior LinkedIn page.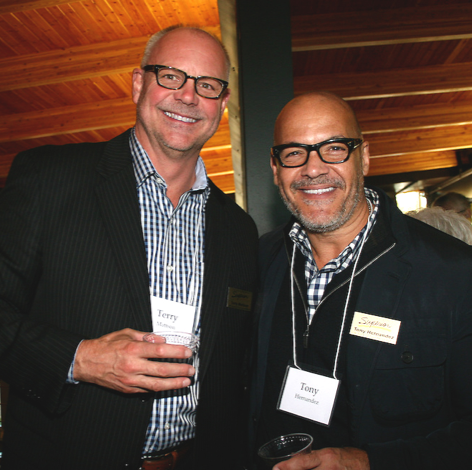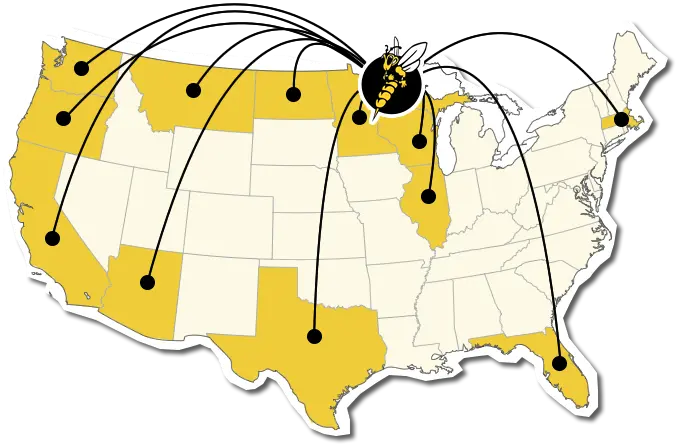 Our Graduates Get Hired
Our graduates accept rewarding positions with employers locally, regionally and nationally.
Employers Who Hired Our 2020-21 Graduates
Children's Advocacy Center of Southwest Florida
148th Figher Wing
Abbott
Accra Care
Adams-Friendship Elementary
Affinity Plus Federal Credit Union
All About Kids
All Pets Veterinary Hospital
Anoka- Hennepin School District
Arbor Vitae – Woodruff School
Aurora Medical Center
Bankers Life
Beaver Dam School District
Bio-Techne
BLDI Environmental Engineering
Bobcat Company
C.H. Robinson
Cambridge-Isanti Schools
Center for Alcohol & Drug Treatment
Century Foods International LLC
Charles Schwab
Cheboygan Area Public Library
Chequamegon School District
China Air
Cirrus Aircraft
Dayton Freight Lines
Douglas County
Douglas County Health and Human Services
ISD 2687
ISD 318
J.B. Hunt Transport Services, Inc
JS Print Group
Kimberly Area School District
Kohls
Kolquist, Seitz & Goldman, LLC
Lakes International Language Academy
Legends Global Merchandise
Lutheran Social Services
Luxury Optical Holdings
Madison Metropolitan School District
Mains Snow Plowing
Manitowoc Public School District
Maple School District
Maurices
Mayo Clinic
McNeilus Truck and Manufacturing, Inc.
Medford Middle School
Mediterranean Shipping Company
Menards
Menasha Joint School District
Menominee Area Public Schools
Mercer Public School
Metro Psychology Support Services
MHR, Inc
MilliporeSigma
Mineralogic
Minnesota Power Employees Credit Union
National Park Service
SKF
Solon Springs Elementary
South terrace elementary
St. Louis County
St. Luke's Hospital
St. Paul's Catholic School
Student Transportation of America
Sturgul & Long S.C.
Superior Middle School
Superior School District
Talbot & Associates
T-Bone Properties, LLC
Teachers on call
The Cookie Momster Milwaukee
Tree Top Learning Center
U.S. Environmental Protection Agency
Uline
East Central School District
Eau Claire Area School District
Elk Mound Area School District
Embark Supported Employment
Enbridge Inc
Essentia Health
Ethos Green Power
Fairview Range Medical Center
Fairview Range Regional Health Services
Family Pathways
Feradyne Outdoors
Flambeau School District
Forest Lake Area Schools
Frandsen Bank & Trust
Fresenius Kidney Care
GoDaddy
Google
Greenway Public Schools
Gundersen Health System
Halvor Logistics
Hamernick's Interior Solutions
Hayward Community School District
Hendrickson Method Clinic
Huawei
IBM
IDS 196
IHS Markit
Inside Edge Data and Analytics
New Day Advocacy Center
New London School District
Nextera Communications
North Memorial Ambulance
North Risk Partners
Northland Constructors of Duluth, Inc.
Northwood Technical College
Office of the Colorado State Public Defender
Panther Distillery
Pickands Mather Group
Plastic Products Company Inc.
Primrose School
Queen of Peace Catholic School
Ravin Crossbows
Reach, Inc.
REM Arrowhead Inc.
Robert Half
School District of Fall River
School District of Manawa
School District of Maple
School District of Rhinelander
School District of Somerset
School District of Superior
School District of Waukesha
School District of Westfield
School District of Wisconsin Dells
Search and Recovery Engineering
Securitas
Serco Loaders
United Healthcare
United States Coast Guard
University of Wisconsin-Superior
UW-Superior
Villa Health Center
Walmart
Walmart Global Tech
Wausau School District
WDIO/WIRT-TV
WEAU TV
Wells Fargo
Wescom Inc
Westfield Elementary
Xperience Fitness
YMCA
YWCA
Job Titles of Our 2020-21 Graduates
Account Specialist
Administrative Assistant
Admissions Counselor
Advisor
Aquatic Toxicology Laboratory Specialist
ARMHS Worker
Assistant Distiller
Assistant General Manager
Associate Representative
Baseball Operations Intern
Bids and Tender Representative
Consultant
Continuing Education Coordinator
Contract Specialist
Controller
Coordinator for Intercultural Programs
Copywriter
Counselor
Customer Service Specialist
Data Management Associate
Digital Manager
Direct Support Professional
Driver
DSNP Navigation Representative
Early Childhood Educator
Early Childhood Special Education Teacher
Electronics Technician First Class
Emergency Medical Technician
Engineer
Environmental Scientist
Exemption Analyst
Family Advocate
Field Service Admin
Field Service Representative
Freelance Translator
General Manager
Home Mortgage Consultant
Human Resources Director
Industrial Security Officer
Information Technology Help Desk Technician
Information Technology Support Specialist
Production Technician
Purchasing Specialist
Purchasing Agent
Receptionist
Recruiting Specialist
Sales Associate
Sales Manager
School Counselor
Security Analyst
Senior Support Technician
Shelter Advocate
Site Coordinator
Site Supervisor
Social Worker
Software Development Engineer I
Software Engineer
Sourcing
Special Projects Manager
Staff Accountant
Strength and Conditioning Coach
Student Assistant
Superintendent of Pack and Production
Business Banker
Business Coordinator
Business Manager
Cardiac Monitoring Technician
Care coordinator
Carrier Sales Representative
Certified Pharmacy Technician
Child Support Investigator
Choir Director
Clinical Sales Specialist
Clinical Substance Abuse Counselor
Institutional Research Specialist
Insurance Agent
Insurance Processor
Junior Accountant
Lab Assistant
Language Ambassador
Legal Secretary
Library Associate
Logistics Coordinator
Manager
Manager Trainee
Materials Coordinator
Materials Planner
Maternal Fetal Medicine Sonographer
Member Advisor
Member Service Representative
Multimedia Designer
Network Technician
Operations Coordinator II
Operations Supervisor
Owner
Paraprofessional
Park Ranger
Patient Care Tech
Patient Service Representative
Personal Care Assistant
Physical Education Teacher
Practice Manager
Preschool Teacher
Product Specialist
Supervised Visitation Monitor
Supervisor
Supply Chain Analyst
Surgical Technologist
Teacher
Teacher – 1st Grade
Teacher – 3rd grade
Teacher – 4K
Teacher – 4th Grade
Teacher – 5th Grade
Teacher – 7th Grade
Teacher – Assistant
Teacher – Elementary
Teacher – High School
Teacher – Special Education
Teacher – Substitute
Therapist
Vice President
Victim Advocate
Visual Merchandise Manager
Workflow Coordinator
Youth Justice Case Manager
Our Students Pursue Graduate School
UW-Superior alumni are enrolled in dozens of different graduate and professional schools to continue their education.
Graduate Schools Attended by our 2020-21 Graduates
Arizona State University
Bemidji State University
BI Norwegian Business School
Boston University
Bridgewater State University
Minnesota State Community and Tech – Moorhead
Missouri State University
Mitchell Hamline School of Law
Northwood Technical College- Shell Lake
Southern New Hampshire
St. Ambrose University
St. Mary's University – Minneapolis
University of Colorado Boulder
University of Colorado Denver
University of Denver
University of Minnesota-Duluth
The College of St. Scholastica
Florida International University
Fond Du Lac Tribal & Community College
Iowa State University
Minnesota College of Veterinary Medicine
University of Minnesota-Twin Cities
University of Northwestern – St Paul
University of Pretoria
University of Wisconsin – Eau Claire
University of Wisconsin – Madison
University of Wisconsin – Milwaukee
University of Wisconsin – Stout
University of Wisconsin – Superior
University of Wisconsin – Whitewater
University of Wisconsin Law
Viterbo University