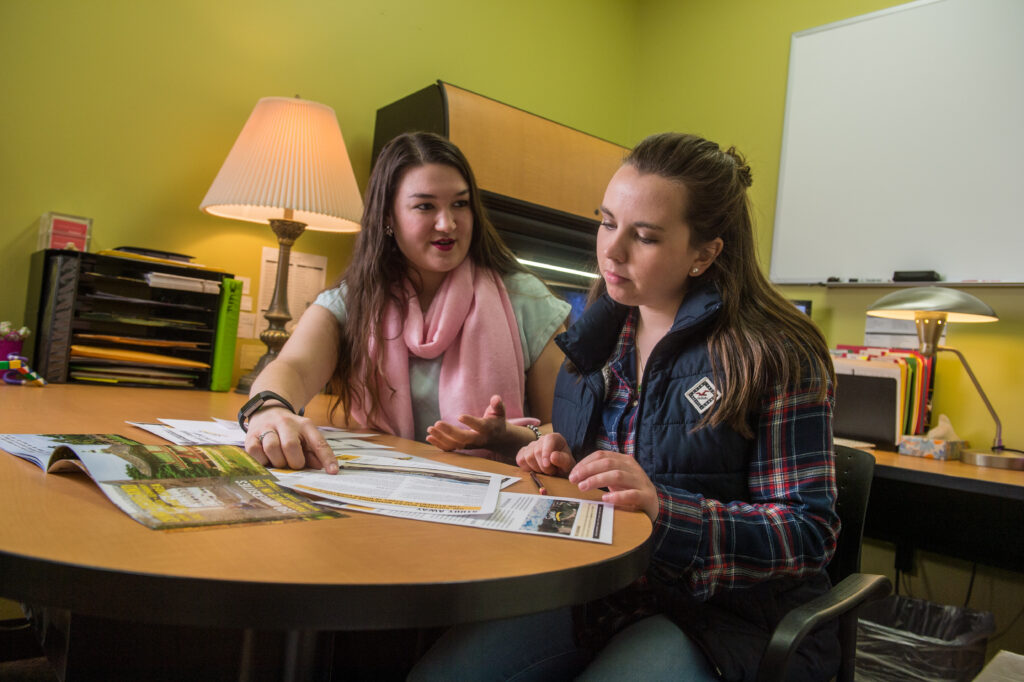 Guiding You to Success
The Center for Academic Advising houses professional academic advising staff to meet the needs of undergraduate students. The center also serves as a clearinghouse for campuswide advising services.
Our academic advisors will begin working with you from the moment you are admitted to the university, helping to guide you down your educational path. We will help you choose a major, register for classes or just point you in the right direction.
Our Shared Advising Model
Every student is assigned at least one primary advisor upon admission to UW-Superior. If you have a declared major, you will also be assigned a secondary advisor.
Your primary advisor is responsible for approving your academic plan and lifting your advising hold each semester. Your primary advisor should be your first contact when you need advising assistance. Typically, during your freshman and sophomore year, your primary advisor is a professional advisor in the Center for Academic Advising. Once you are a junior or senior, your primary advisor will be a faculty member in your academic department.
You are required to meet with your primary advisor at least once every semester to discuss your course selections prior to registration. The university places an enrollment hold on your account every semester. This hold can only be lifted by your primary advisor once you have communicated regarding course selection and degree planning. It is your responsibility to make and keep your advising appointment each semester. Make sure you meet with your advisor early so that you can register as early as possible every semester. Check your UW-Superior email regularly – your advisor will reach out to you when it is time to make an appointment.
Your secondary advisor serves as back-up to your primary advisor and can provide additional assistance and mentoring. You can work with this advisor after you have met with your primary advisor or if your primary advisor is not available. Typically, during your junior and senior year, your primary advisor is a faculty member in your academic department while your secondary is your professional advisor in the Center for Academic Advising.
You may confirm your advisor assignment(s) in E-Hive. Always see an advisor as soon as possible if:
You are struggling in a class
You are considering dropping a class or withdrawing from the university
You would like to change your major or minor
You would like to declare your major or minor
Your Academic Advisors
---
Advising Resources and Forms
Including Change of Major, Minor and Degree Form
Find information on changing your major/minor/degree, your advisor, planning sheets and more.
We're Here to Help!
If you have any questions, we're here to help! You can contact us by clicking the button below, or by contacting your advisor directly. You may also find what you're looking for in our FAQs.