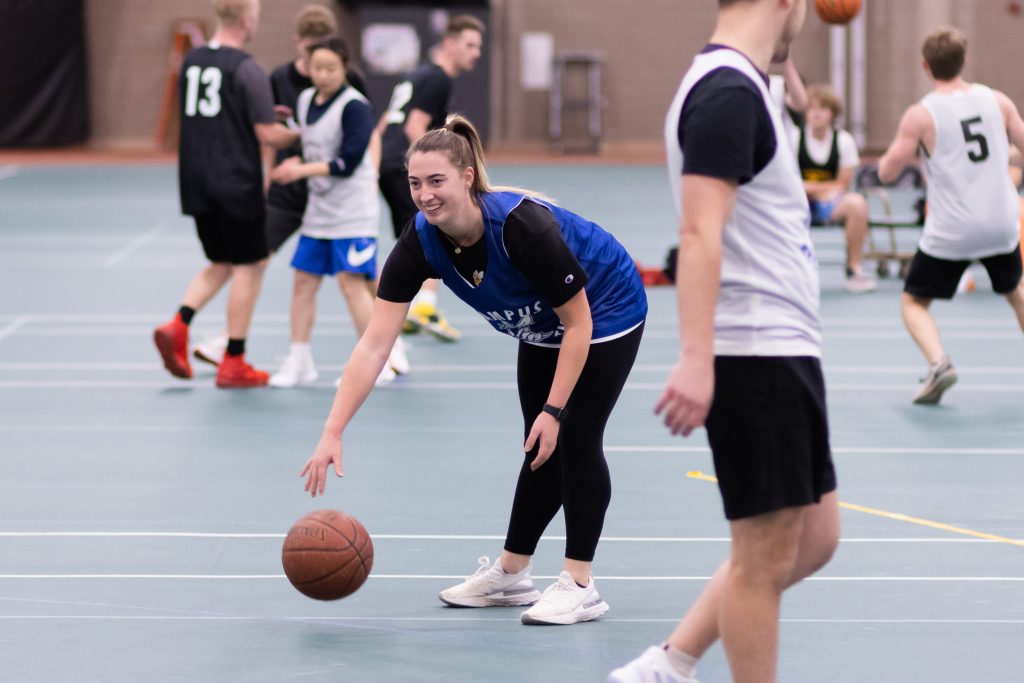 Get in the Game!
Our intramural program offers something for everyone! Choose from a wide variety of team sports and individual events, and vie for the coveted Intramural Champion T-shirt. Organize your own team or put yourself on the Intramural Free Agent list. Intramural Activities determines the brackets, tracks the team records and organizes the tournaments. We offer an array of sports for all seasons. Each semester is divided into an eight-week block, which includes six weeks of league play and one or two weeks of tournament play.
View the Intramural Participant Handbook.
Fall 2023 Schedule
Registration for Fall sports is open from September 6 – September 28 at 11:30 p.m. There are limited spots available, so please register your team early!
Regular Season: October 2 – November 9.
Champ Week: November 13 – 17
All games will be played between 6 p.m. and 11 p.m. in the Marcovich Wellness Center (unless otherwise noted). All leagues will be offered in open formats.
Mondays: Volleyball
Tuesdays: Tournament night!
Wednesdays: Settlers of Catan
Thursdays: Basketball
Fridays: Pickleball (1 p.m. – 3 p.m. and 7 p.m. – 10 p.m. in Mertz Mortorelli Gymnasium)
Our tournaments will be held periodically in the Marcovich Wellness Center.
These events are free for students and MWC members. To learn more about how to register as an athlete, visit our Campus Recreational Portal on IMleagues.com.
Upcoming Tournaments
T-Shirt Tournament Tuesdays! Starting September 12, a new tournament will be held at 7 p.m. in the Marcovich Wellness Center each Tuesday night. From Pickleball to Candy Land, come try something new for a chance at a vintage intramural t-shirt. Sport-specific information will be posted in our Campus Recreational Portal.
Additional Information
Register in our Campus Recreational Portal with your UWS username and password. Registration is limited on a first-come, first-served basis for league nights and times.
Intramural Sports is $5/participant for officiated sport and free for unofficiated sports to participate per team. Payments are made to the front desk or within Superior Adventures when joining a team.
Students interested in playing Intramural Sports who don't have a team should register as free agents in our Campus Recreational Portal.
You can list yourself as a free agent in as many divisions within a league as you'd like. First, create yourself an IMLeagues account, then visit the page of the sport you'd like to play and click on "Join as Free Agent".
You will be visible to all members of the site and can request to join teams, or post information about yourself so teams can request to add you to their team.
Signing up as a free agent does not guarantee you a spot on an Intramural Team.
The Intraumural Department is seeking enthusiastic and reliable individuals who are willing to learn to officiate Intramural Sports. No previous officiating experience is required, although experienced and certified officials are encouraged to apply. Officials will be trained by Campus Recreation staff and may have additional officiating opportunities. This is a paid position.
Students need to demonstrate reasonable knowledge, skill of the sport, and dedication to the sport, and express consideration toward all participants.
Interested individuals are encouraged to apply the first week of the semester, but applications are accepted throughout the year.
We'll hold a mandatory clinic and rule discussion the week before the start of the season. Officials are paid for the clinics.
To find more information about becoming an Intramural Official, contact Sean Monnier at Smonnier@uwsuper.edu.
Team Captains serve as liaisons between their teams and the Intramural Staff.
Team Captains responsibilities include:
Paying the team entry fees.
Attending all meetings pertaining to his/her team's activity.
Submitting the appropriate team roster.
Making roster changes and additions when necessary according to the eligibility rules.
Notifying team members of date, place, and time of contest or schedule changes.
Relaying all information from the intramural handbook and captains meeting to all team players, fans, coaches, etc.
Being knowledgeable of all playing rules governing the sport in which they are participating.
Being knowledgeable of all eligibility rules and department policies.
Reading, understanding and abiding by the Campus Recreation Intramural Participant Handbook.
Displaying good sportsmanship.
Being held responsible for the actions of teams, specific players and/or spectators.
Understanding and adhering to these guidelines will facilitate and allow a team's participation in Intramurals at UW-Superior.