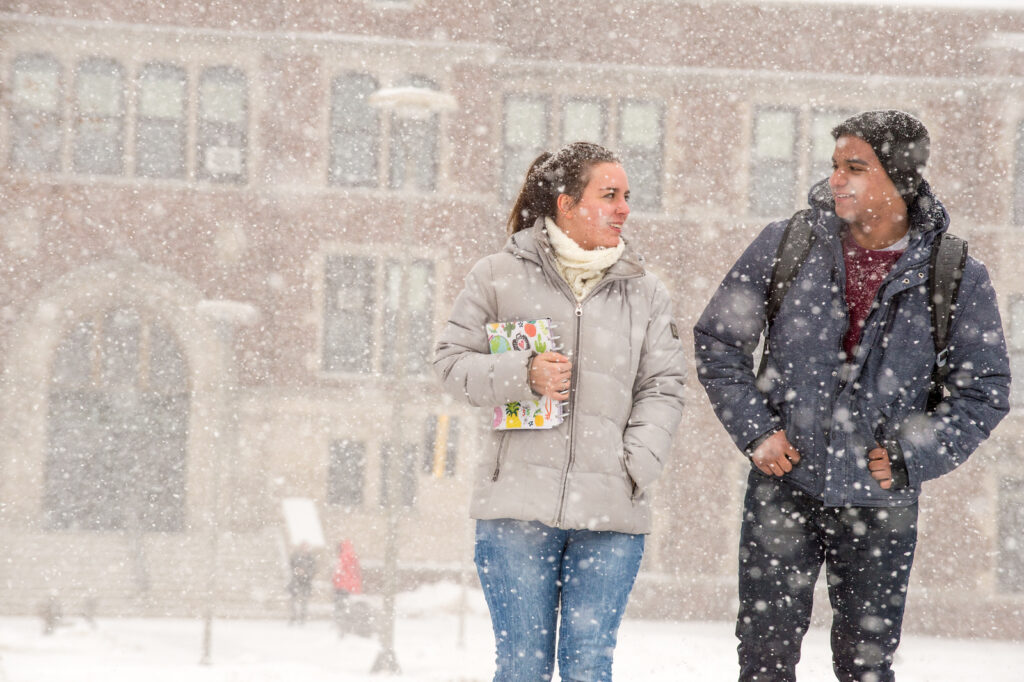 SAFE Alerts
Through UW-Superior's SAFE Alerts system, campus community members receive voice messages, texts and emails regarding campus emergencies and when adverse weather conditions affect normal campus operations.
SAFE Alerts automatically delivers messages to UW-Superior email addresses and campus phone numbers. Students and employees can also have these messages delivered to their cell phones and personal/non-uwsuper email addresses.
Students: Update your cell phone and personal/non-uwsuper email via E-Hive in the Student Center. You can also add parent/family cell phone and email addresses if they would like to receive SAFE Alerts. You may also contact safealerts@uwsuper.edu to add your contact information to SAFE Alerts.
If you have any questions regarding the SAFE Alert system, please contact safealerts@uwsuper.edu.
Weather and Emergency Communications
When the university cancels classes or closes the campus because of weather conditions or an emergency situation, we have various means to notify students, faculty and staff and keep the campus community informed. These communications methods are listed below:
Text Message
A text message will be sent to the cell phones of SAFE Alert users.
UW-Superior social media
Messages will be posted on the official UW-Superior Facebook page and on Twitter.
UW-Superior homepage
A message will be posted on the UW-Superior homepage.
UW-Superior email
A message will be sent to everyone by email from UW-Superior SAFE Alert.
On-campus phone calls
An automated phone call will be delivered to UW-Superior phone extensions.
UW-Superior office/computer lab screens
Emergency information will flash on the screens of UW-Superior-owned computers.
Digital Displays
Emergency information will appear on digital displays across campus.
Fire alarm network
In the event of an emergency that poses an imminent threat, a verbal announcement will be made through the university's fire alarm network.
Weather and Emergency Hotline
Call the UW-Superior Weather and Emergency Hotline at (715) 394-8400 . This recorded message gives you the latest information about any campus-wide class cancellation or campus closing. It is updated by 6 a.m. for changes affecting daytime classes and by 2 p.m. for changes affecting evening classes. The hotline can handle many calls at once. If you get a busy signal, dial again.
Regional broadcast media
Information about weather cancellations or other emergencies is relayed to local media, including KQDS-FM, WDIO-TV, KBJR-TV, the Duluth News Tribune and the Superior Telegram.
Emergency Webpage Information will be posted on emergency.uwsuper.edu.
Keep in mind that power failures may make it impossible for one or more of these methods to be used. If in doubt, check more than one source of information.
These notifications will be used only for campus-wide situations. Changes or cancellations of individual classes must be communicated by instructors to students in a pre-arranged manner.
CodeRed Community Alerts
Douglas County and the City of Superior use CodeRED as a tool to alert residents and visitors in the area during an emergency. CodeRED provides citizens with critical information, warnings and advisories concerning an emergency.
All students, faculty and staff are encouraged to register for CodeRED. For more information about CodeRED, please contact Douglas County Emergency Management.