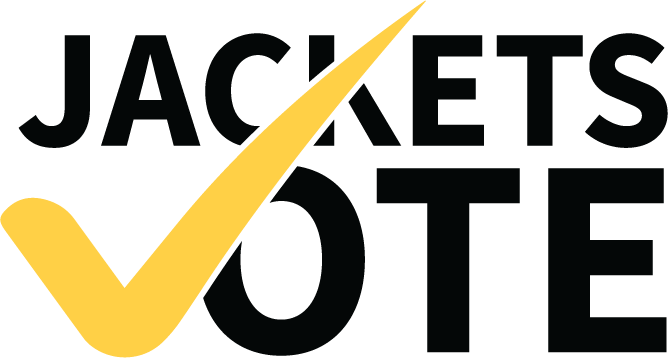 Get Registered. Get Educated. Get out to Vote.
Jackets Vote seeks to achieve a higher voter registration rate among students, provide the necessary resources and tools for student voter education, and ultimately produce a higher voter turnout rate throughout our institution. Since its inception, Jackets Vote has organized a variety of nonpartisan student- and community-focused events, programs, presentations and trainings. Jackets Vote initiatives tie into broader institutional values of civic action and positive change within the community, UW-Superior's Civic Action Plan, and the institution's commitment to the Higher Education Act of 1965, which requires institutions to give voter registration forms to their students.
---
Jackets Vote promotes nonpartisan voter and civic engagement efforts for UW-Superior students, faculty and staff. Our goal is to ensure that student voices are heard by providing students with the necessary tools and resources to get registered, get educated, and get out to vote. Yellowjacket voices count.
Background
UW-Superior's Link Center was awarded a gift from the Menard Center for the Study of Institutions and Innovations (MCSII) at UW-Stout to elevate nonpartisan civil liberties in 2019. MCSII's mission is to provide leadership on issues pertaining to civil liberty and related institutions and innovations through scholarly inquiry, educational activities and community outreach. Through this gift, the Jackets Vote Program was born under the Link Center. This gift allowed the Link Center to hire two community and voter engagement interns to lead efforts in civil liberties and nonpartisan voter engagement and support events and programming.
According to the National Study of Learning, Voting, and Engagement (NSLVE)
The Link Center is committed to creating a nonpartisan, institutional effort towards civic voter engagement. Our goal is to offer leadership and partnerships to provide the resources and support students need for civic learning, political engagement, and voter participation. Community and Voter Engagement interns are available to help UW-Superior students get registered, get educated, and get out to vote.
Interested in learning more? Reach out to the Link Center.
Jackets Vote, the Link Center and UW-Superior are nonpartisan and neither endorse nor oppose any political party, candidate or viewpoint. 'Jackets Vote organizes nonpartisan voter education events for UW-Superior and the surrounding community to support students, faculty, staff and the community to get registered, get educated and get out to vote.