Annual Giving to the UW-Superior Foundation
When Obiageli Ekwunwa came to UW-Superior from her hometown of Abuja, the capital of Nigeria, she was looking for a quiet place to learn and earn a degree. As she met other students and her instructors, she came out of her shell and found meaning behind various cultures.
"My instructors have a way of communicating that makes me feel included," said Obiageli, a double major in Economics and Communication. "I want to focus on my majors, so I can go back home and help change the economy and make a difference."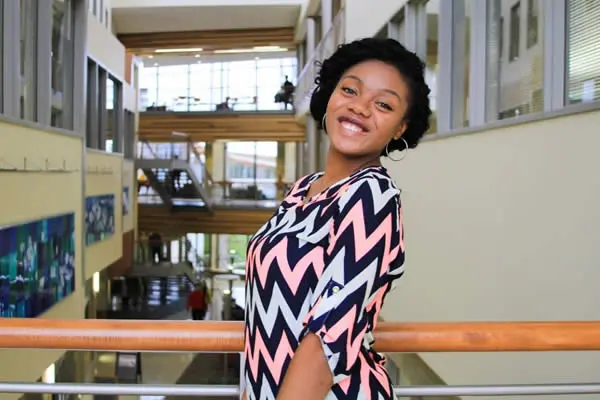 It was the welcoming environment at UW-Superior and the rigorous academic programs that helped Obiageli succeed. In fact, she landed a research position with the Economics Program, and she's looking into doing even more research and an internship. After graduating, she plans to go on to graduate school for economics.
Every year, thousands of Yellowjacket alumni, parents and community members join together to support students, faculty, and staff through the Superior Fund. When you give to the Superior Fund, you support the efforts of UW-Superior to prepare future leaders like Obiageli. Your gift will further equip Yellowjacket students to make an impact in their communities and keep the UW-Superior tradition alive.
What Does the Superior Fund Support?
The Superior Fund is a top fundraising priority. It enables the UW-Superior Foundation to support all the things that make UW-Superior so extraordinary by providing financial resources needed for scholarships, undergraduate research, and academic programming. We rely on the generosity of our alumni, friends and community members to support the Superior Fund.
Why is my Participation Important?
By showing your support of the Superior Fund, you're helping today's students receive an amazing Yellowjacket experience.
Your gift combines with other gifts from our community to create an even greater impact. That's why gifts of any size make a difference!
Only a small percentage of UW-Superior's total budget is covered through state funding. The UW-Superior Foundation helps to fund remaining disparities in order to provide the most exceptional education possible.
Give to the Superior Fund
To support the Superior Fund, select "Superior Fund" in the designation dropdown on our secure online giving form. Thank you for your support!